The idea to have a Lhasa Apso club in Scotland was born when some Scottish exhibitors got chatting at a dog show. A group of Lhasa Apso enthusiasts got together and discussed the possibility of having a breed club in Scotland.
There were already 3 Lhasa Apso breed clubs formed, the parent club "The Lhasa Apso Club", the Midland Lhasa Apso Association & the South East Lhasa Apso Society, all of which were South of the Border. With the breed gaining in popularity and a number of exhibitors being resident in Scotland, they decided to gauge whether there'd be enough interest to form a club in Scotland. The group got a huge amount of support from exhibitors from all areas of the UK and positive feedback from the other breed clubs. After lots of hard work and 2 years of going back and forth collecting the relevant information, the Kennel Club finally granted permission to have our own club in Scotland.
The Inaugural meeting was held in Bo'ness recreation centre on 13th October 1990. The first AGM was held in the B.A.A social club, Ingliston on Sunday 29th March 1992.
Lhasa Apso Club of Scotland Founder Members
Mrs I Allen, Mr D Anderson, Mr J & Mrs E Anderson, Miss M Armstrong, Mrs J Blyth, Miss J Brown, Mrs R Brown, S Cartwright, Mr S.J & Mrs I Chamberlain, Mrs M Craig, Miss J.P.A Cunliffe, Mr J Currie, Miss J Davidson, Mr A.F Diston, Miss V Donaldson, Mr A Easdon, Mrs T.E Faulkner, Mrs M.D Findlay, Mrs J Flrankl, Mrs B Fraser, Mrs J.V.A Grugan, Mrs J Guthrie, Mrs L Haward, Mr A & Mrs N Henderson, Mrs M House, Mrs A Jack, Mrs L Kemp, Mr W Mabberley, Mrs A Macdonald, C Mackenzie, Mr F.J.D & Mrs M Maclaughlin, Mrs M Manzie, Mrs M Marsh, Mrs A Matthews, Mrs D McColm, Mrs J McDerment, Mr H McGucken, Mr P Millett, Mrs F Mosey, Mrs D.A.A Munro, Mr W Norris, Mrs J Norris, Mrs A Parham, Mr H & Mrs E Parsons, Mr J Peat, Mr I Pollock, Mrs D.M Quelch, Mr R.G & Mrs D.R Richardson, A Robertson, P Robertson, J.Y Sinclair, Mrs W.G Smith, Mr J.B & Mrs R.F Watson, Miss F White, Mr D Witham, Mr & Mrs P Wright
Our current Honorary President is Mr J.B Watson or Bruce to his friends! Bruce has been involved with the club from the start, from a casual chat to gauge interest to present day. Bruce, along with his wife Ros, who is one of our current vice presidents, have served on the committee for nearly 30 years. Bruce has held the posts of secretary, show secretary and Hon. President over the years. The club owe so much to Bruce and Ros, whose passion for the breed and for the Lhasa Apso Club of Scotland has never wavered and we can't thank them enough for the support they have given, and still give to the club.
Our other Vice President is also a founder member of the club. Mr P Millett has also dedicated many years to LACOS. Peter was the club's first Hon. President and helped immensely with the original set up of the club. Although Peter lives in England, he regularly attended our shows and meetings until recent years. Peter still likes to be involved and attends our shows to steward when he can.
Over the years Harry and Betty Parsons did sterling work serving the Club, Harry performing extended periods as Treasurer and Chairman and Betty serving as Secretary and Treasurer at other times. Betty was a vice president until her sad passing in 2019.
Past Secretaries
Mr Bruce Watson (1992 – 1999)
Mrs Betty Parsons (1999 – 2013)
Dr Kimberley Logan (2013 – 2019)
Mrs Lesley Chalmers (2019 – present)
The first Lhasa Apso Club of Scotland show was held on Saturday 22nd May 1993. It was a 16-class open show and the judge was Mrs Maureen Millett (Escafeld). It was held in Bo'ness recreation centre, Gauze Road, Bo'ness.
There was a great entry of 74.
Best Dog was Cossy's Charlie Chan at Serpico
Best Bitch and Best in Show was Ragoosa Worth the Wait
Best Puppy in Show was Terendak Centre Forward
We held one open show in 1993 and 2 open shows per year from 1994 until the year 2000 when we were given Championship show status. Our first Championship show was held in Bo'ness on Saturday 25 th August 2000. The judge was Mrs June Frankl (Nichann) and we attracted an entry of 102.
Dog CC & Best in Show was Ch Hashhanah Picture This at Sealaw
Dog RCC was Forochel Van Dieren
Best Puppy Dog & Best Puppy in Show was Chtaura Dream Machine
Bitch CC& RBIS was Vallena An-Chusha
Bitch RCC was Truern Serenissima
Best Puppy Bitch was Ballito's Butyrskaya
Full results for all our shows are available on the LACOS show results page.
This hardy, assertive little dog originated from Tibet and takes its western name from the capital of that country, LHASA, and the Tibetan word meaning 'wholly covered in hair', APSO. It is thought that the breed can possibly trace its origins back as far as 800BC, which would make it one of the oldest breeds in the world.
Historically owned and bred by aristocrats, high officials and monks in its native land, as early as the 16th century it became custom for the Dalai Lama to give pairs of them (they were never sold) to departing royalty and dignitaries, as they were highly treasured and thought to bring good luck and prosperity. When trade routes opened to China and beyond, travelers also took these little dogs with them on their adventures, and so began their spread to other countries.
Kept as companions and housedogs, their keen sense of hearing meant that they also served as excellent indoor guard/alarm dogs, alerting the household and the Tibetan Mastiff tied up outside to any invasion of their surroundings, a trait they retain today.
Living in extremes of temperatures and at high altitude in rough terrain, it was essential that they developed a strong heart and lungs, hence the emphasis in our Breed Standard that the ribs should 'extend well back', giving plenty of room for these essential organs; also, that they should have a 'strong loin' and be 'balanced and 'compact'.
The breed arrived in the UK at the beginning of the 20th century, and the first set of CCs were awarded as early as 1908; however, as with many breeds, the two World Wars took their toll, as did the outbreak of hardpad and distemper in the late 1940s, but a small group of dedicated fanciers managed to get the breed back on its feet after receiving several new imports, and registrations of the breed reached the qualifying number of 150 and gained championship status again in 1965. Since then the breed has flourished and is currently in Kennel Club Band C, with 32 sets of tickets annually.
The first apso to win an all breeds Best in Show was Ch Cheska Alexander of Sternroc, a grey/white dog, at LKA 1973. Two Apsos have won BIS at Crufts: Ch/Ir Ch Saxonsprings Hackensack, in 1984; and Ch Zentarr Elizabeth, in 2012. The current breed record holder Ch Saxonsprings Fresno also won the group at Crufts twice, the second time as a veteran.
with thanks to Sally Pointon for supplying the breed history info.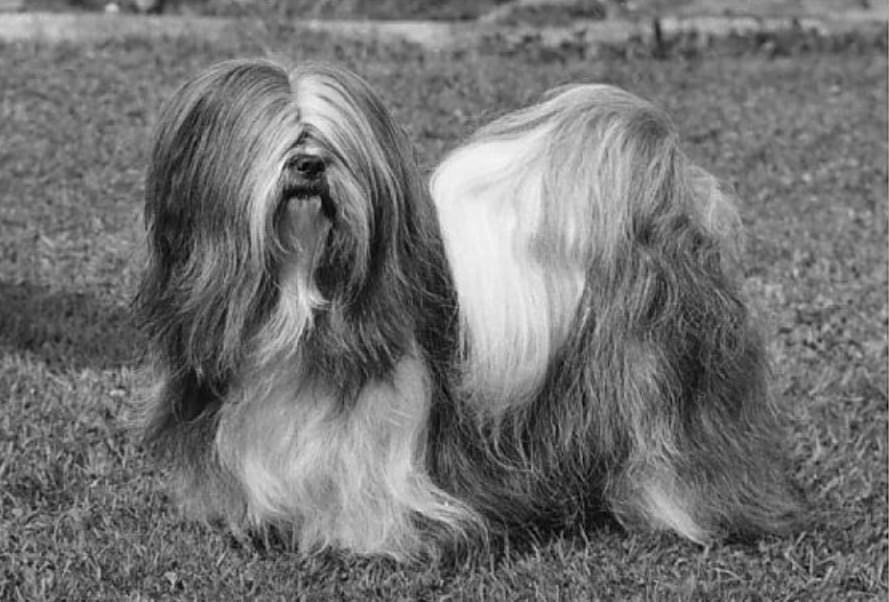 Ch Cheska Alexander of Sternroc
Photo by T Fall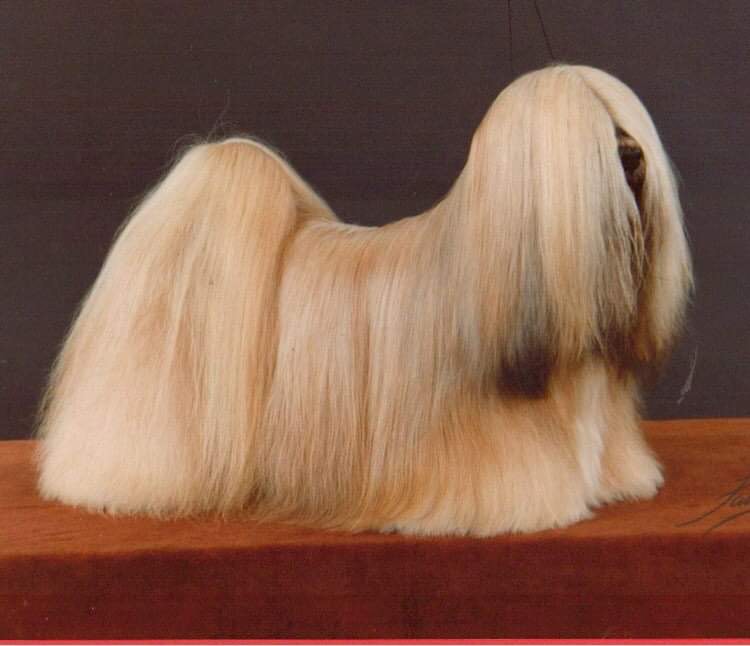 Ch Saxonsprings Hackensack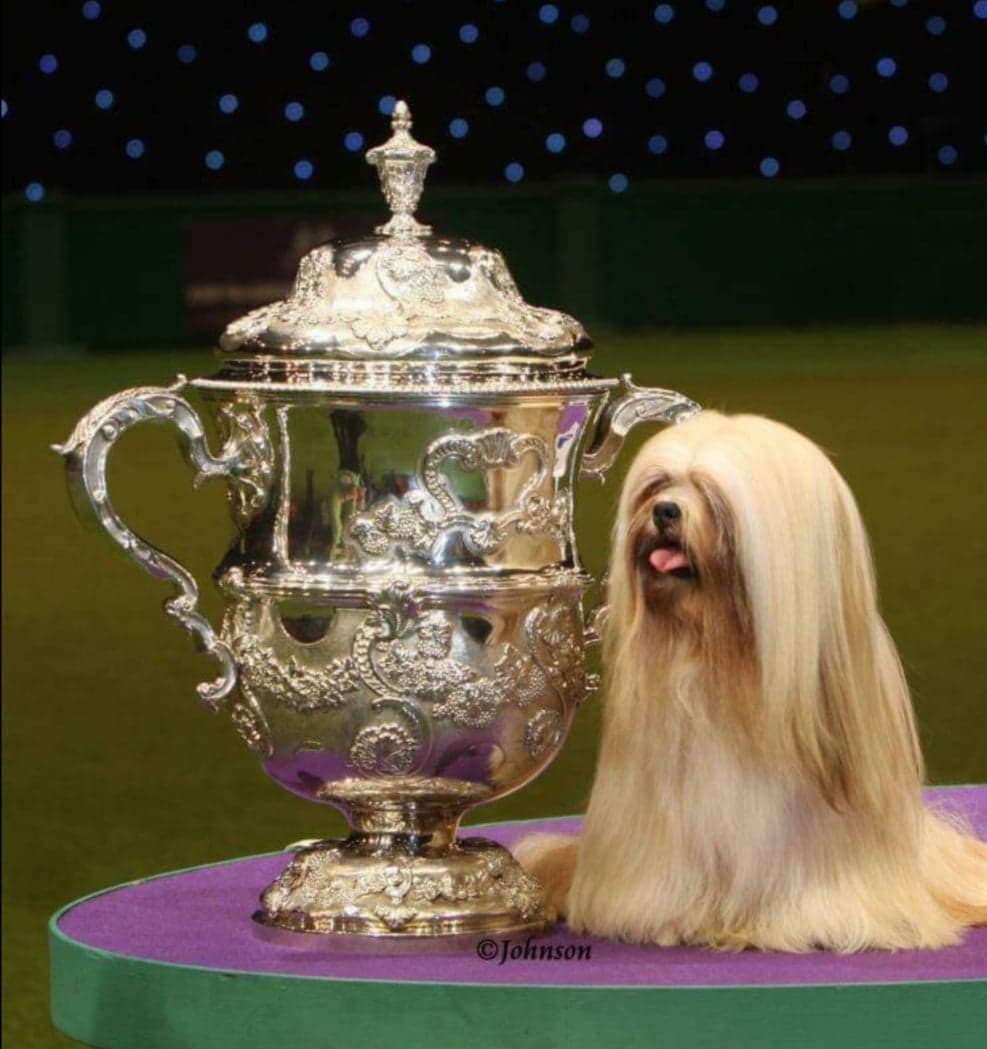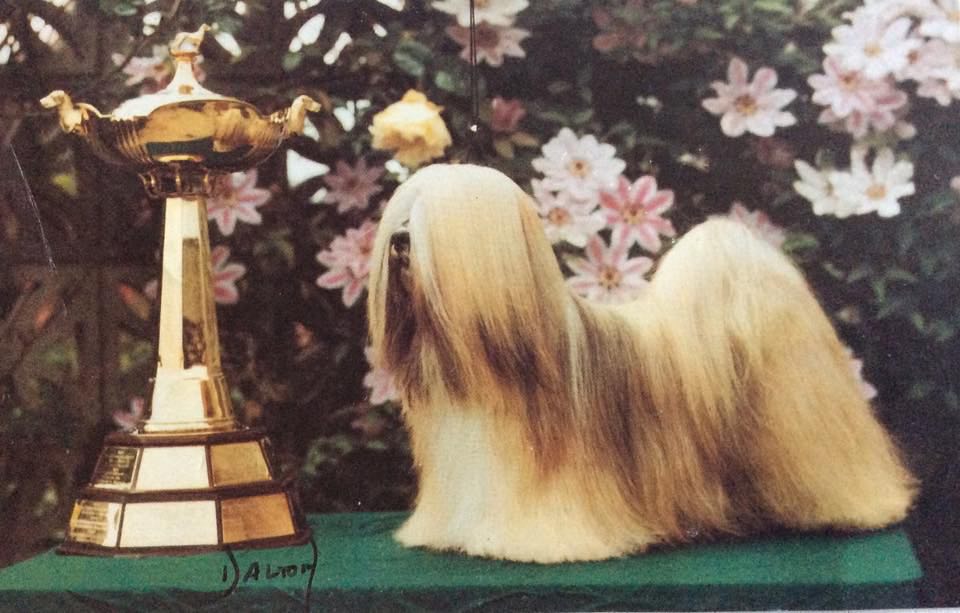 Scottish Lhasa Apso Champions History
To date, there has been 4 champion Lhasa Apsos owned by Scottish residents.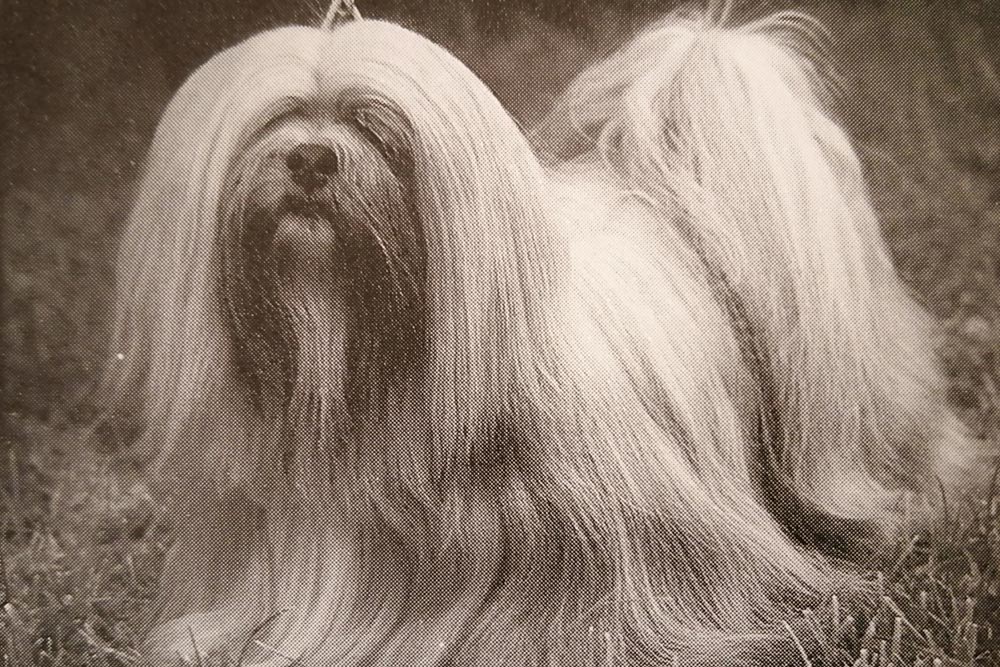 Champion Lynruce Beau Jangles at Kerlin
Sex: Male
Colour: Red Gold
Date of Birth: 14th March 1990
Champion Title: 1995
Breeder: Mrs R.F Watson
Owner: Mr J & Mrs E Anderson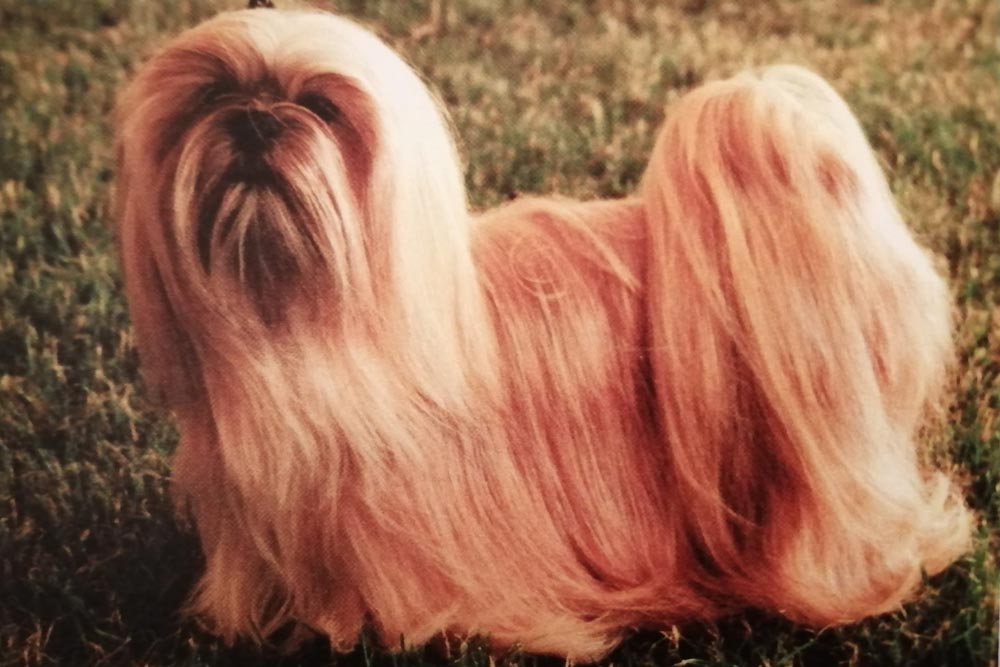 Champion Lynruce Command Performance at Kerlin
Sex: Male
Colour: Red Gold
Date of Birth: 26th February 1995
Champion Title: 2002
Breeder: Mrs R.F Watson
Owner: Mr J & Mrs E Anderson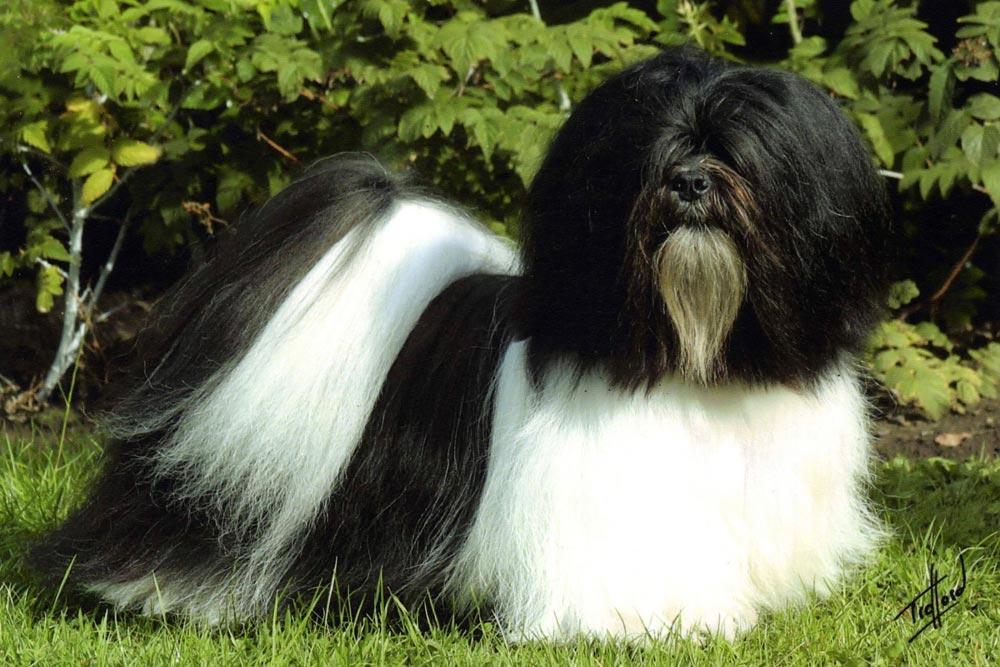 Champion Cheolview I'm Special at Lynruce
Sex: Female
Colour: Black & White
Date of Birth: 20th September 2003
Champion Title: 2006
Breeder: Mrs G Blake
Owner: Mr J.B Mrs R.F Watson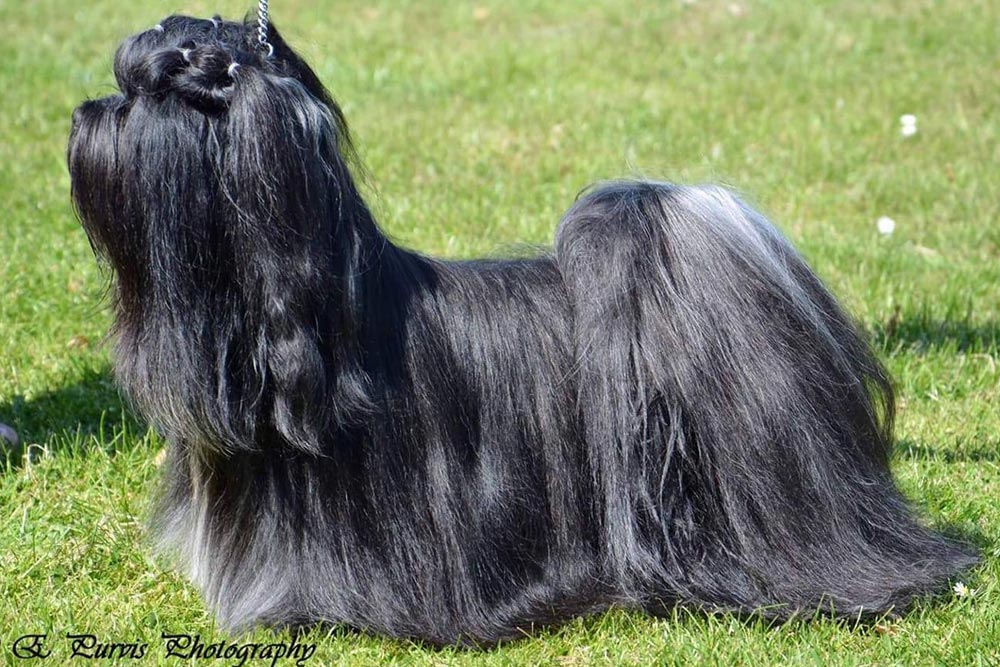 Champion Dimara To Be Shure of Aintshe
Sex: Male
Colour: Black
Date of Birth: 10th May 2015
Champion Title: 2019
Breeder: Mrs M Phillips
Owner: Ms L Maxwell & Mrs L Chalmers